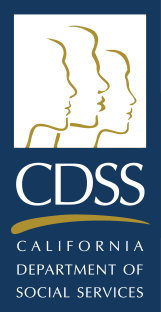 Family Child Care Providers
Transcript
Is Family Child Care the Right Business for Me?
Produced by the Community Care Licensing Division of the California Department of Social Services
[music]
[A family child care provider and a young boy greet a mother and her two children at the door.]
Mother:
You opened it! You opened the door. Well, let's see! Hi, good morning!
Provider:
How are you guys?
Mother:
Good!
Series Host, Off-screen:
When you open and manage a family child care home, you provide a vital, critical service for families.
[The provider smiles as she watches the two children playing in the living room.]
There are many personal rewards that come with caring for children, [Host on-screen] but being a licensed child care provider also includes the responsibilities associated with running a business.
In this video, we're going to take a close look at the kind of planning you'll do before starting your business, the resources you'll need to start, maintain, and possibly grow your business, and some of the many responsibilities you'll accept once your family child care license is activated.
[Two licensing representatives speak.]
Community Care Licensing Representative 1:
Thousands of Californians are successfully providing professional-level child care services. The child care providers who best meet the needs of children and families do so in part by recognizing and fulfilling their responsibilities as business owners and managers.
Community Care Licensing Representative 2:
At Community Care Licensing, we're here to help you by providing a range of resources and services, including our website, our on-call staff, and the advocates and licensing program analysts who work directly with you.
CCL Rep #1:
Some of the business aspects of child care that new family child care providers find most challenging include keeping accurate records, managing staff, and maintaining their facility in ways that meet regulations.
CCL Rep #2:
Our goal is to help you learn about these new responsibilities and manage your facility so that you can provide a safe and healthy place for young children.
[The host speaks, and the questions she asks are displayed on a white board.]
What are some of the business responsibilities of a family child care provider?
[The host speaks as the corresponding content is displayed onscreen.]
A partial list of your business responsibilities includes:
establishing a facility that meets all licensing requirements,
and then staying compliant with those regulations at all times,
balancing your income and expenses, which could involve upfront costs before opening your facility,
developing your program's policies and procedures,
supervising employees and volunteers,
and maintaining well-organized records.
Also, it's your responsibility as a licensed child care provider to be familiar with all the laws and regulations that apply to your facility and to make sure you are in full compliance. Child care regulations and licensing requirements are available in writing on the licensing website.
[Images of the website, www.ccld.ca.gov, briefly appear, and a red arrow points to the "Laws and Regulations" tab.]
Check the website on a regular basis for any updates or changes.
What will change in my home if I open a family child care facility?
Provider:
You like being in that tent?
Child:
Yeah.
[In a family child care home, a provider interacts with three young children in the play area of a living room.]
Provider:
Okay, tell us when you need help out.
Host:
If you open a child care facility, your home becomes a business site, subject to inspection by licensing representatives. During operating hours, a significant portion of your home will no longer be a private place.
[In another family child care home, a provider walks with children into a room that includes activity and eating areas.]
In addition to the children in your care, parents and/or guardians will have the right to enter the facility during operating hours.
Also, your business places requirements on you and everyone else who lives in or spends a significant amount of time in your home.
Most adults will need to be fingerprinted as part of a background check,
and proof of TB clearances are also required within the past year.
Also, you'll need to consider the impact your business will have on your personal life and social life, such as vacations and visits from out-of-town friends and relatives. Thousands of individuals and families have weighed these considerations and made the adjustments needed to successfully operate their family child care home.
What are some of the financial obligations I should expect?
You'll have to pay non-refundable licensing fees, including a one-time orientation fee and an annual licensing fee. Family child care homes may need to pay a separate business license fee to their local government, as well as file other reports and pay other fees or taxes related to operating a business. Check with your city or county government about those requirements.
You'll also be responsible for all child care related supplies and equipment, including items that need to be replenished regularly, facility maintenance costs, and staff salaries, if you operate a large family child care home.
What other important considerations come with operating a family child care home?
If you have employees, you'll be supervising them. You'll also be responsible for managing the withholding of taxes and meeting additional tax-related filings. So, even if you have bookkeeping experience, you may need to learn new skills to manage payroll and related items. And having employees means knowing and abiding by all local, state, and federal labor laws.
And, no one can be employed or volunteer at a family child care home if he or she has not been immunized against influenza, pertussis, and measles, unless they have a valid exemption. More information about required immunizations and exemptions can be found on the CCLD website.
[A provider speaks with a mother and two young children.]
Provider:
Am I gonna see you tomorrow? I like your hairstyle. It's cute! Is she gonna come tomorrow?
Mother:
I think so, yeah.
Host:
Also, your business needs to attract families with children. Licensing can't refer families to you specifically, it can only list the facilities that provide licensed child care. You may need to learn to market your business so families will know about you and why your facility is a good choice for them.
[A provider facilitates a variety of activities with children, such as reading books, counting objects, and playing in small groups.]
Most families expect licensed providers to do more than just keep their children safe and healthy. They'll also want you to engage their children in age-appropriate educational activities, offer organized play activities, and an environment that effectively supports children's learning, and in general, help prepare them for the next phase of life, whether that's preschool or kindergarten.
Key Points:
We understand it can be a little challenging to consider everything that you'll need to do, prepare for, pay for, and learn in order to provide licensed care to California's children. So, let's summarize the key points about the business side of family child care.
Operating a family child care facility includes certain legal and financial responsibilities, including compliance with child care licensing regulations. Your home will become a business during operating hours, and you will need to be available, not only to the children in your care, but to their families as well. Adult family members in your household will need to fulfill licensing requirements, such as criminal background checks. Ultimately, by being properly informed and prepared to launch your new business, you can achieve your goal to operate a successful family child care home.
Copyright 2016
State of California