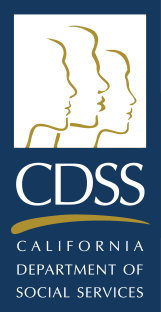 Child Care Center Operators
Transcript
Disaster Planning and Fire Safety
Produced by the Community Care Licensing Division of the California Department of Social Services
[Music]
[On-screen, children and a teacher play with blocks at a table.]
Teacher 1:
Our window's next. Oh, I like that one. [siren blaring] Oh, fire drill. Let's go.
[The teacher and children stand up and walk toward the exit.]
Series Host:
We all hope we never experience a disaster or emergency. [Series host, on-screen.] But even so, with children in our care we must know how to respond should one occur. You will need emergency plans for your child care facility in the event of sudden and catastrophic events. CCLD has tools to help you plan your response. And you're required to use these tools to create a disaster plan before your facility is licensed.
[Two licensing representatives speak.]
Community Care Licensing Representative 1:
Licensing regulations require you to submit a written disaster plan identifying what you will do to keep children safe during an emergency.
Community Care Licensing Representative 2:
On the Licensing website you'll find emergency disaster planning forms that must be completed as part of your license application. These plans require you to consider the following. How will you evacuate the children in case of an emergency? And where will you take the children if you cannot return to your facility immediately? In recent years, child care programs have sustained major disaster-related damage requiring temporary closure, evacuation, and relocation of children.
CCL Rep 1:
Facilities that appropriately prepare and plan for emergencies will be better able to protect lives and property should a catastrophic event occur.
[The host speaks, and the questions she asks are displayed on a white board.]
What are the three types of disasters to consider when developing my emergency plan?
The three types of disasters are fires, floods, and earthquakes. Fires may break out in your facility or in an adjacent building or approach from a nearby forest or other fuel source. Flooding may occur in your building from a break in a water main or a leaky roof or immediately outside your building from the flooding of a river or other body of water. Earthquakes may cause minor damage to your facility or major and widespread damage to your neighborhood and city and also fires and floods.
[The host speaks as the corresponding content is displayed onscreen.]
Let's consider three main responses to these catastrophes:
evacuation,
temporary relocation,
and sheltering children and staff at your facility.
How do I evacuate children and adults from the facility?
[siren blaring]
[At a childcare program, teachers and children exit the facility during a drill. On a bulletin board, an evacuation plan is posted.]
Evacuation means everyone leaves the building. There are no exceptions. So your evacuation plan must provide for everyone, including infants who can't yet walk and children with special needs. Your evacuation plan will include marked exits, and may include fire escapes. [Another evacuation plan is visible on a bulletin board. During a drill, teachers and children file out of the classroom, then do a roll call outside.] Everyone, adults as well as children who are old enough, should know how to proceed to and out of these exits. It is best practice for the safety of the children in your care to do roll call. Consider a face-to-name roll call to ensure you have all children in your care at all times.
Teacher 2:
Natalie? Everybody's here.
How do I establish temporary relocation sites in the event of an emergency?
You should have identified and received advance permission to use relocation sites. Licensing requires at least two. It is best practice to have one within easy walking distance from your facility, and a second one in case the first site isn't available. Some examples of sites used for temporary relocation include:
a neighbor's home,
a local church or school,
or a Red Cross or other designated shelter.
The families of every child in your care should be informed in advance of where your relocation sites are since it may be impossible to contact families directly during an emergency.
How do I plan for sheltering children and staff at my facility?
In some emergency situations, it may be safer to stay put than to leave. [On-screen briefly: the CDSS "Disaster Planning Self-Assessment Guide for Child Care Centers and Family Child Care Homes."] To be prepared to shelter children and staff at the facility, you should have enough food and water to meet everyone's needs for at least 72 hours. Other important considerations are providing children with temporary sleeping accommodations and bedding and planning on ways to address children's fears and concerns and, if possible, providing them with play materials and activities.
How do I meet Licensing regulations regarding disaster planning?
First, consult the CCLD website and review the regulations specific to disaster planning. [Images of the website, www.ccld.ca.gov, briefly appear, and a red arrow points to the "Forms" tab. The forms briefly appear as the host names them.] The department has forms available on the CCLD website: form LIC 610, Emergency Disaster Plan for Child Care Centers, or form LIC 610A, Emergency Disaster Plan for Family Child Care Homes.
Host, on-screen:
For centers, the form is optional, but the plan shall be in writing and readily available. Due to the specific threat of earthquakes in California, you are also required to submit an earthquake preparedness checklist, form LIC 9148, with your plan. [The form briefly appears.] Always have your completed Emergency Disaster Plan accessible. [At a child care program, an Emergency Disaster Plan is posted on a bulletin board, and a disaster survival kit is stored under the stairs.] You may post a copy of the completed Emergency Disaster Plan in your facility. And this will help ensure everyone is prepared, including parents. If anything happens that causes you to alter your plan, submit an updated form to Community Care Licensing.
How, and how often, do I conduct a disaster drill?
[In a classroom, a teacher and children sit in a circle.]
Teacher 3:
I'm gonna say what? And you're gonna where?
Child 1:
Under the table.
Teacher 3:
I'm gonna say what word?
Boy 1:
Earthquake.
Host:
You need to conduct a disaster drill at least every 6 months. Adults and children who are old enough should know their duties during drills and emergencies.
Teacher 3:
Earthquake!
[The children quickly stand up and scatter to look for shelter.]
Everyone at your facility should participate in the drill, including infants and non-ambulatory children. Roll call should be done before and immediately after the drill, and for a final time once everyone is back in your facility.
Key Points:
Your challenge, once licensed, will be to maintain disaster preparedness, though we hope you will never need to implement an emergency plan. Here are some key points from this video to assist you in planning. You must complete an Emergency Disaster Plan, which will help you be prepared for disasters such as earthquakes, floods, and fires. At a minimum, conduct emergency drills every 6 months with children and staff. Make sure to document that you completed the drill, and include the date. For additional information on preparing for disasters, please go to the CCLD website.
A Special Note on Non-Natural Disasters or Emergencies:
Host:
Unfortunately, in today's world, there is also the possibility of human-created disasters or emergencies that can affect your child care facility. It is important you remain alert and vigilant at all times to ensure that children in your care are safe and accounted for if such a disaster should strike. Some resources you may want to use for more information are:
the Emergency Medical Services Authority,
the Red Cross,
the California Office of Emergency Services,
the California Department of Public Health,
and your local resource and referral agencies.
Copyright 2016
State of California