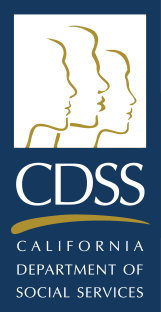 Child Care Center Operators
Transcript
Locks and Inaccessibility Requirements in Child Care
Produced by the Community Care Licensing Division of the California Department of Social Services
[music]
Series Host, off-screen:
Children are naturally curious.
Family Child Care Provider:
Would you like to find something else that we can try and open? Maybe we could find a puzzle.
[With a provider watching, a young boy tries to unfasten a safety lock on some kitchen cabinets.]
Child:
I can't do it!
Provider:
I know.
Child:
Oh, I can do this. [The boy runs to another set of locked cabinets.]
Provider:
Well, we wanna make sure that everything in there is safe, and it's not safe for kids right now.
Series Host:
As a child care provider, keeping children safe requires that you make certain they don't have access to anything that might hurt them or enter an area of your home or center that could pose a danger to them. There are two basic ways to protect children from these kinds of hazards. One involves making potentially dangerous items and designated areas inaccessible to children. The other is using locks to make sure children don't have access to anything that could harm them.
[Three licensing representatives speak.]
Community Care Licensing Representative 1:
Within licensing regulations there are different requirements for what must be made inaccessible to children and what's required to be locked up.
Community Care Licensing Representative 2:
Things that need to be made inaccessible include anything that could cause harm to a child, such as cleaning products or places like stairwells when children under the age of 5 are present. Items that need to be kept locked up include guns, ammunition, and poisons.
Community Care Licensing Representative 3:
Organizing your facility so that items such as cleaning supplies that you use often are inaccessible to children can require planning. This is critically important.
CCL Rep #2:
Keep in mind that a major goal of licensing regulations is to make sure your facility is as safe as it can be and that you're in compliance.
[The host speaks, and the questions she asks are displayed on a white board.]
What does Community Care Licensing mean by "inaccessible"?
[The host speaks as the corresponding content is displayed onscreen.]
"Inaccessibility" means that children can't reach, obtain, or have access to potentially dangerous items, such as cleaning fluids, or potentially dangerous areas of the child care facility, such as swimming pools.
[Kitchen cabinets appear onscreen: first they are shut and fastened with a safety lock, then they are opened to reveal cleaning products inside.]
For example, locks on doors and cabinets make the items inside inaccessible to children. While locks aren't required in every situation, they definitely eliminate any chance that a child can access a locked area or item.
Provider:
[A provider locks cabinets with a child nearby.] Lock this just so we can be safe.
Host On-screen:
In addition to locks, there are other ways to make items and areas inaccessible to children. If you place items in out-of-reach cabinets, shelves, or drawers, they can be considered inaccessible. Using products labeled as childproofing devices and safety latches can make items inaccessible as well. Failure to keep items and areas inaccessible as required by regulations is a health and safety violation.
What items and areas must be inaccessible to children?
Any item or area that could cause harm to a child must be made inaccessible. Examples of items that must be inaccessible include: cleaning products, medications, knives, and alcohol. Examples of places and fixtures that must be inaccessible include: off-limits areas of your home or center, areas used to store hazardous and dangerous materials, and stairwells.
[On-screen, a staircase blocked by a gate is visible while a provider and children read in the foreground.]
If children under 5 are present, gates must be in place to ensure these areas are inaccessible. Fireplaces and open-faced heaters must be made inaccessible to children as well. Also, swimming or wading pools when not being used for adult-supervised water play, as well as hot tubs, ponds, and any other bodies of water, must be made inaccessible. Items and areas that must be inaccessible to children are listed in the Community Care Licensing regulations. Review them regularly to make sure you're in compliance.
What types of locks meet licensing regulations?
Provider:
Beep, beep.
[Outside, a provider pulls children in a wagon, and in the background a shed is visible with a padlocked door.]
Host:
Any lock that's sturdy and can't be tampered with is acceptable. A lock is a key or combination-operated mechanism used to fasten shut a door, lid, or the like. [Host, on-screen.] Products labeled as childproof devices and safety latches are not considered locks unless they are operated by a key or combination.
Why is it important to regularly check the inaccessibility of potentially dangerous items and areas of my child care facility?
Some locks are subject to wear and tear or rust, so be sure to check the condition of any locks in your facility on a regular basis. Over time, children grow in size and skill. It's important to make sure storage units, cabinets, and drawers remain inaccessible, even to older children. Stored items can be shaken loose and fall during an earthquake, causing injury or hazard. They should be checked after any ground motion. Finally, be sure that items that get used regularly are properly stored, and not accidentally left where they could cause harm to children. [A provider puts dishwasher detergent away under the sink and then fastens a lock on the handles.]
Child:
[inaudible]
What special regulations apply to firearms and ammunition?
Firearms and other weapons are not allowed on the premises of a child care center. In family child care homes, guns and ammunition must be locked in a gun safe or other storage unit, or guns must have a trigger lock on, or the firing pin may be removed from the gun and stored separately. Guns and ammunition must be stored apart from one another. There is zero tolerance for failing to keep guns stored and locked as required. Gun and ammunition violations result in a citation and a civil penalty.
Key Points:
Let's review the key points about inaccessibility and locks in licensing regulations. "Inaccessible to children" means that children cannot reach, obtain, or have access to any potentially harmful items or areas of the child care facility. Items that need to be locked up include anything that is designed to kill, such as guns and poisons. Remember that children grow in size and skill. Regularly check your facility to make sure that potentially dangerous items remain inaccessible to all children in your care.
Copyright 2016
State of California