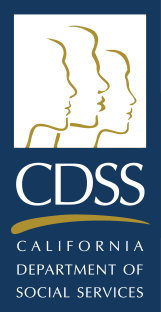 Family Child Care Providers
Transcript
Bodies of Water Requirements in Child Care
Produced by the Community Care Licensing Division of the California Department of Social Services

[music]
[An infant holds her hands under the faucet and splashes with a caregiver nearby.]
Teacher 1:
Splash, splash.
Series Host, Of-screen:
Most children love playing in and around water. When it comes to bodies of water, it's our job to make sure children are safe.
[In a sandbox, preschoolers dig in a large puddle of water.]
Boy 1:
I'm making another island, Nanu.
Teacher 2:
You're making another island?
Host:
But what is a body of water? [Images briefly appear with question marks over top of them: a water table, a bucket of water, a pool, and a stream.
Host, On-screen:
In this video, we're going to make sure we're all familiar with the regulations related to children and bodies of water at or near your facility, whether it's a family child care home or a child care center.
[Two licensing representatives speak.]
Community Care Licensing Representative 1:
In the United States drowning is the leading cause of unintentional death among children 1 to 4 years of age and is the second leading cause of death for children 5 to 14 years old. Licensing regulations that address bodies of water are designed to prevent these kinds of tragic accidents.
Community Care Licensing Representative 2:
Being in compliance with these regulations will minimize the risk of any water-related accident happening to a child in your care. Licensing has zero tolerance for any failure to ensure that children are safe around any body of water. This is an immediate health and safety risk, and a civil penalty will be assessed.
[The host speaks, and the questions she asks are displayed on a white board.]
What does Community Care Licensing classify as a body of water?
Research has shown that an infant face down can drown in just 1 inch of water. [The host points to the 1-inch mark on a ruler.] So almost all bodies of water are considered a potential hazard and must be treated with caution.
[The host speaks as the corresponding content is displayed onscreen.]
Examples include, but aren't limited to:
swimming pools,
wading pools,
hot tubs,
creeks, streams, and ponds.
What regulation about bodies of water must I know and follow?
All bodies of water are considered a potential hazard, and they must be made inaccessible when not in use. Any time there is a change to your facility involving a body of water, Licensing must be notified. They will need to inspect and approve the change.
[A teacher supervises three young children in a wading pool.]
If a body of water such as a swimming pool or wading pool is used for organized play, children must be closely supervised. And when the play session has ended, the equipment must be made inaccessible. If it is a wading pool, it must be emptied when not in use.
[The wading pool is shown empty and turned upside down. At another childcare program, a teacher supervises children as they play in large puddles.]
Any time there is water on or near your facility's property, children must be supervised by adults when they're in or near it.
Teacher 3:
Where is the water going?
[Onscreen: three boys and a teacher at a water table.]
Boy 2:
Over by here.
Teacher 3:
Right there?
Host:
Often, water tables are used in child care centers and family child care homes for children's play. They must be closely supervised by an adult at all times. [Host on-screen.] When not in use, the container must be emptied, and children must not have access to water to fill the container on their own.
There are additional regulations about water safety specifically for child care centers. [On-screen: a teacher supervises children at a child care center playing with water outside.] At least one supervising adult must have current water safety training, and stricter adult-child ratios are required for water activities.
[Icons representing an adult and 2 infants appear next to a full wading pool.]
For infants from birth to 24 months, you will need 1 staff member for every 2 infants…
[Icons of an adult and 4 infants appear next to a shallow infant splash mat.]
…or 1 staff member for every 4 infants if there's an accessible body of water that children are less likely to drown in.
[Icons of an adult and 6 children appear next to a full wading pool.]
For toddlers and older, one staff member for every six children is required no matter what type of body of water is present. Lifeguards are not counted as supervising adults.
What are the regulations specific to an on-site pool?
[Outside, adjacent to a play area, a pool is surrounded by a tall fence.]
In ground or above ground swimming pools must be made inaccessible to children when not in use for supervised water play. Hot tubs, spas, and fish ponds must also be made inaccessible. [As the host lists the regulations, images of the pool highlight the features that meet those regulations.] No pools at the facility can be accessible directly from a door or window in the facility. Pool fencing must be at least 5 feet high, have no openings wider than an inch and a half, and in no way obstruct a complete and clear view of the pool from the outside. In addition, the fence must have a gate that is self-closing and self-latching. When released, it must swing shut and latch on its own. It must also swing away from the water when opened, be kept closed when the pool is not in use, and is not locked, since it may be necessary for an adult to enter the pool area without having to find a key or remember a combination.
If you live in an apartment complex that has a community pool, check with licensing about any requirements you have to meet to ensure that children are safe.
What are the regulations specific to inflatable or other portable wading pools?
Wading pools can only be used by children with direct adult supervision, can only be filled immediately prior to use, and must be emptied immediately after every use.
What if there's a hot tub or spa on my facility's property?
Hot tubs and spas must be inaccessible and locked, and must have a cover sturdy enough to hold an adult. Locks must require a key to open. Even unused or empty hot tubs must be kept closed and locked.
Key Points:
The key points to remember are these: Children can have fun, enriching experiences with water, but only if they're carefully supervised. Because it's so easy for a child to drown in even a small amount of water, you must be absolutely certain that any body of water at or near your facility is completely inaccessible when it's not part of supervised water play.
Copyright 2016
State of California